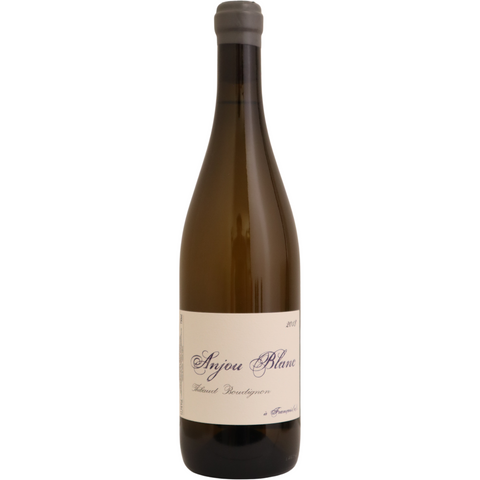 2018 Thibaud Boudignon Anjou Blanc "A François(e)...", Loire Valley, France
The nose has a lot of gardenia, fennel, kumquat zest with a soft smoky reduction. The wine is so dense and young in the palate, with a real tannic bit - think over brewed white tea, yet harmonious which bright acidity that will only develop with time.
ABOUT THIS WINE

Made from his finest plots in Anjou. The wine is named after his late mother, who tragically passed away from cancer when Thibaud was 17 years old. He makes this wine in her honor, without any compromise. If he feels the wine does not live up to his mother's name, he won't make it.

100% Chenin Blanc from 35 year old vines which are grown on shallow soils of grey schist and rhyolite (volcanic soil). Indigenous yeast fermentation and does not undergo malolactic fermentation. The wine is then aged in 350l and 700l barrels (30% new)
ABOUT THIS PRODUCER
Thibaud Boudignon is unquestionably one of the most exciting figures in wine today. Originally from Bordeaux, he honed his winemaking craft while working at Philipe Charlopin in Gevrey-Chambertin during the early 2000s. He was shortly thereafter hired by Savennières producer Chateau Soucherie to be their winemaker in the late 2000s. His first and most important contribution to the estate was the introduction of strict organic practices in the vineyards which, along with his immense winemaking skills, elevated this already historic domaine to new heights. It was in 2009 that he began to make wine under his own name from a scant 3.5 ha in the heart of Anjou and Savennieres. Knowing that the quality of his fruit was of most importance, he committed himself absolutely to the health of his vines, choosing to farm organically and spend the majority of his time in the vineyards. His devotion paid off quickly, for in just a few vintages, his name began to circulate among Loire growers, eventually to top restaurants in Paris, and finally overseas. The speed at which he has garnered so much praise speaks to the remarkable quality of his wines.