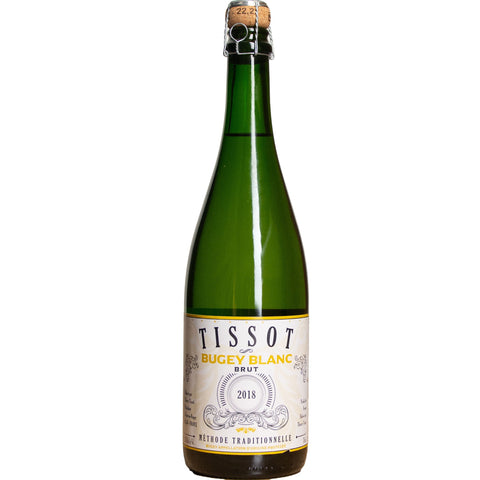 2018 Thierry Tissot Bugey Blanc Brut, Savoie, France
Balanced and round, the Altesse adds distinctive floral notes to a toasty flavor profile. This wine pairs well with almonds, foie gras, young alpine cheeses, and cream soups.
ABOUT THIS WINE
This Blanc Brut consists of 61% Altesse, 26% Chardonnay, 13% blend of Jacquère and Aligoté. Altesse planted in 2001, Chardonnay planted in 1990, Jacquère and Aligoté planted in 1900

This Méthode Traditionelle sparkling wine is made with organically-farmed, estate altesse, chardonnay, jacquère, and aligoté. It is an ideal apéritif wine, with a distinctive alpine flavor profile and elegant balance. Céline and Thierry Tissot are demonstrating that top-quality Méthode Traditionelle sparklers can be made in Bugey, transmitting a clear and unique Bugey identity. The Tissots have been pushing the envelope by developing their traditional method sparkling wines with a long lees-aging regimen.
The grapes are manually harvested in a first-pass before the harvest for the still wines. The alcoholic fermentation for the different grape varieties is done separately before blending for the spontaneous malolactic fermentation. All this is done at a low temperature in temperature-controlled stainless steel tanks. After bottling, the wine goes through its secondary fermentation and ages on the fine lees for 36 months. Finally, this Méthode Traditionnelle wine is given a dosage of 4g/L to allow the freshness and varietal character of the wine to shine.
ABOUT THIS PRODUCER
The Tissot family has long made wine, while also growing other crops and raising some livestock, at their estate in Vaux-en-Bugey. In 2001, with his oenology degree in hand, Thierry Tissot came home to take over the estate. He decided to focus exclusively on making quality wine and hatched a plan to revive a forgotten vineyard. The old-timers talked about a hillside called Mataret, a vineyard site once known for making legendary wines. Three hectares of clay calcareous soils with veins of shale facing southwest, at 350m elevation, and overlooking the village, this site had been completely abandoned and was covered in chestnut trees and dense brush. Thierry set his mind to making great wines here again. He cleared the hillside and planted it with Altesse and Mondeuse, two indigenous varietals in which he has great faith. Though the vines are still young, the wines produced from this site already show great depth and complexity. The potential here is tremendous.