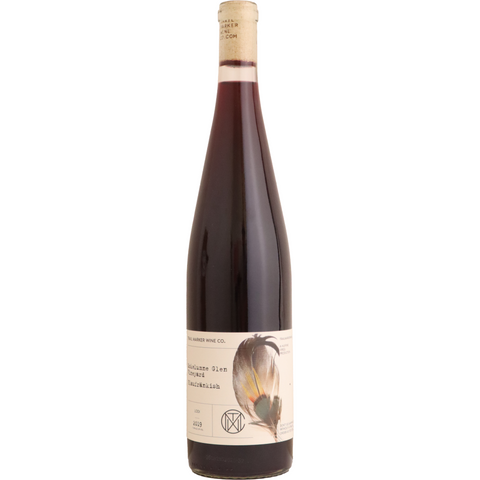 2019 Trail Marker Wine Co. Blaufränkisch "Mokelumne Glen Vineyard", Lodi, California, USA
Dark ruby with a translucent purple rim. The nose holds beautiful aromas of cassis, black cherry, steeped tea leaves, and black pepper. The palate is elegant with soft, well integrated tannins and pleasant acidity.
ABOUT THIS WINE
Mokelumne Glen is Lodi's most unusual (or geekiest) vineyard planted with over 55 grape varieties of German and Austrian origin. Some would call that lunacy, given that Lodi's Mediterranean climate is not supposed to be conducive to more northerly European grapes. All the same, the vineyard has a track record of producing delicious wines that have impressed even internationally traveled, and acclaimed, wine journalists. Clearly, in the great, big world of grapes and wines, there is such a thing as suspension of disbelief; that is to say, just "shut up and enjoy."
ABOUT THIS PRODUCER

We source fruit from small, responsibly farmed and passionately cared for vineyards from Mendocino to Santa Ynez and everywhere in between. Our winemaking style allows us to makes wines that are high acid, low alcohol — well balanced expressions of these excellent vineyards. We serve our wines at our table with great pride and think you will too.

Emily, the owner/boss, spent years on set as a costume stylist in the film industry in LA. Through a twist of fate she met Drew, a winemaker dressed in what might seem like a costume but was actually his every day lumberjack attire. They met just weeks before Drew was to fly off to a harvest in New Zealand. The distance only made their hearts grow fonder and not long after Drew's return, Emily exited stage left and they were married. They moved to the Bay Area where Drew discovered vineyards that lived up to his standards, on his home turf. Emily is also the Hospitality Director at LIOCO Wines in Sonoma County.
Drew, the winemaker, is a purist who likes wines that are well-balanced and have a "certain something" about them that defies description. Over the years Drew has created wines for many well respected wineries but after he married Emily, she convinced him it was time they create their own wine. No mortgage. No kids. Let's do it! Trail Marker was born.

Drew entered the wine world attending UCSB, living near Santa Barbara's wine country. While pursuing a masters degree at Cal State LA, Drew worked at Colorado Wine Company. There he met Kent Humphrey of Eric Kent Wines. Kent encouraged Drew to head north to work a harvest. From there, Drew was off and running. He worked at Copain, DuMol, Kosta Brown and Wither Hills and becoming the winemaker for Tuck Beckstoffer Wines. In 2013, Drew became the head winemaker for R2 Wine/Roessler Cellars, where he still consults.