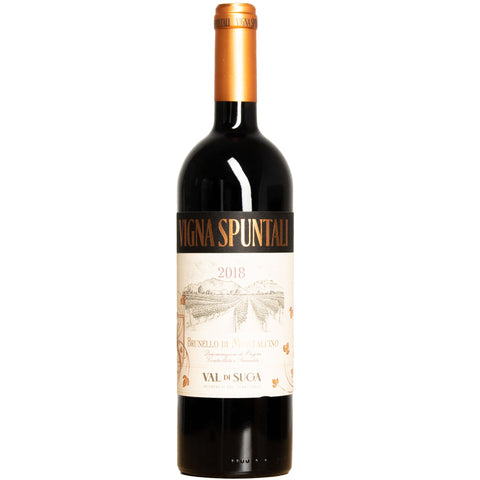 2018 Val di Suga Brunello di Montalcino "Spuntali", Tuscany, Italy
Unfolds warm, intense and refined on the nose. Great explosion of ripe fruit with notes of sour cherry, dried figs, candied fruit and especially orange. On the palate, sweet and soft tannins accompany the long finish with notes of plums and blackberries.
ABOUT THIS WINE
100% Sangiovese Grosso from the "Vigna Spuntalli" vineyard.
Fermentation and maceration take place at a controlled temperature of 25˚–30˚C (77˚–86˚F) in concrete for 20 days. 24 months in French oak and an additional 36 months aging in bottle. Spuntali is a vineyard of 15 hectares near Sant'Angelo in Colle, at 300 m above sea level, facing southwest. The soil is of Eocene origin, limestone-clay, medium texture.The climate is influenced by the sea, which is just over 30 km away, warm but with good and frequent ventilation which gives this territory a typical Mediterranean appearance.The Brunello from this vineyard is robust, structured and has a high alcohol content, with sweet tannins and a rich bouquet ranging from candied fruit to spices, tobacco and chocolate.
ABOUT THIS PRODUCER
Val di Suga's history began in 1969, when a company owned by Aldo Moro bought agricultural land to the north of Montalcino and built a manufacturing and retail business on it. Previously used for forage, these lands were gradually made into vineyards as they changed hands a number of times until, in 1982, Val di Suga began making wines in its own winemaking cellars. The first vintage to be sold was Val di Suga Brunello Riserva 1977. The company's viticultural and oenological growth was rapid.
These were the years in which the denomination's success and expansion began. It was this and constant hard work and commitment in both wine growing and making, that made Val di Suga begin to stand out in the Montalcino wine panorama. A vineyard in a lakeside position in front of the estate buildings was chosen for its special characteristics to produce to first Brunello selection, Vigna del Lago. The first vintage produced for this cru was 1983.
But the truly great intuition came in 1999, when the opportunity for a new acquisition took shape and a vineyard in the historic heart of the denomination, to the south east was bought: Poggio al Granchio. With Poggio al Granchio, Val di Suga acquired an element which marked it out from any other Montalcino estate. It became one of the few estates with vineyards on different hillside locations and the only producer to own vineyards on the three slopes best suited to top quality Brunello making. 55 hectares in total farmed to Sangiovese on three different slopes with different sun exposure and three geologically different soils.