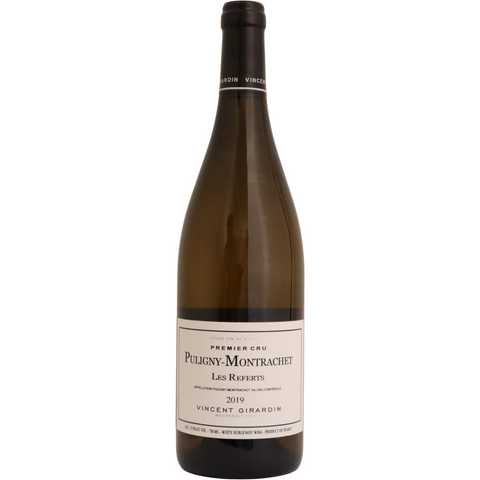 2019 Vincent Girardin Puligny-Montrachet 1er Cru "Les Referts", Burgundy, France
Mineral wine, salty, slightly chalky with notes of white flowers. With a lot of finesse and vivacity.
ABOUT THIS WINE
The vines are located in the commune of Puligny-Montrachet, just below the appellation Puligny "Les Combettes". At the limit of the Meursault "Charmes Dessous". Clay-limestone crossed by veins of marl in some places. The relatively unsloping place, facing South-East. The pruning is done in Guyot with different works during the green season.(Disbudding, trellising, topping).

Manual harvest, sorting on vine then in the vat and finally pressing (pneumatic press) to obtain a slow extraction.

Barreling after a slight settling. The grapes are put in French oak barrels of 228 liters (15 % of new barrels) in which the alcoholic and malolactic fermentations in yeasts and native bacteria
will take place. Breeding will be long on fine lees for 18 months without stirring. One month before bottling, the wine from different barrels is placed in a stainless steel tank for blending.
Filling before gluing and light filtration before bottling. Bottling is done according to the lunar calendar.
ABOUT THIS PRODUCER
The history of Maison Vincent Girardin is relatively recent. In 1980, at the age of 19, Vincent Girardin, the son of a family of winegrowers based in Santenay since the 17th century, decided to strike out on his own and began producing wine from five acres of vines that he had inherited from his parents. From his earliest youth, Vincent had a passion for working with vines and great respect for the potential that they represent, and his ambition was to produce his own wine. The quality of his wines was quickly recognized by connoisseurs all over the world, and this enabled him to expand his activity, focusing primarily on the great white and red wines of the Côte de Beaune. To cope with the growing demand for his wines, he developed an approach that was new in Burgundy: he purchased grapes from producers who shared the same philosophy and the same high standards.

In 2012, Vincent Girardin sold his operation to a long-standing partner of the Maison. Jean-Pierre Nié, President of the Compagnie des Vins d'Autrefois in Beaune, naturally decided to continue with the small team of nine people that had been faithful to the Maison for many years. Today, Eric Germain continues to uphold the style of the wines, and Marco Caschera markets them all over the world.