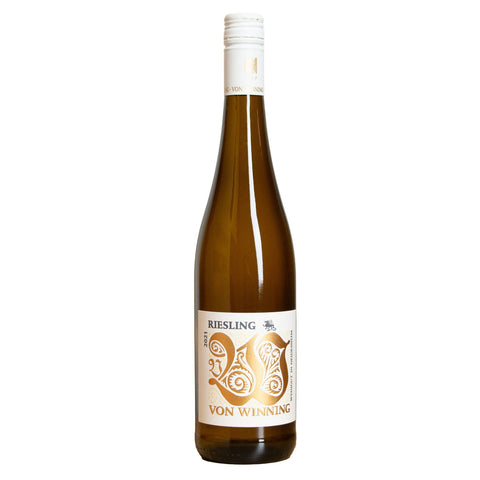 2021 von Winning "Estate" Riesling Trocken, Pfalz, Germany
A perfect balance of fruit, depth, and fresh acidity. The flavors of juicy bright peach compliment the slightly spicy finish. A versatile wine that is perfect both for an afternoon cocktail hour as well a great wine for a dinner party.
ABOUT THIS WINE
Intensive and sustainable work in the vineyard enables von Winning to harvest grapes of optimal balance for vinification without interfering with the wines' inner structure. The vineyard's layout in new high density plantings, for example, does not follow the machine's design or "efficient" cultivation methods. Out of demand for quality and tradition, the original viticultural principles reemerged, allowing the vineyards to regain the face of earlier times.
Fruit comes from multiple vineyards in Deidesheim. The vines are grown in limestone, loam, & red sandstone. The wine is vinified in stainless steel
ABOUT THIS PRODUCER
The fact that this estate is crafting some of the very best dry wines in Germany is no fluke, rather a result of nearly obsessive winemaker Stephan Attman's commitment to both dedicated cultivation of Deidesheim and Forst's best sites and meticulous work in the cellar. Von Winning maintains some of the oldest parcels in Grosses Gewächs vineyards smattered across Forst, Deidesheim, and Ruppertsberg. Attman's every decision is informed by great enthusiasm and experiences at estates in the Cote d'Or and abroad. For example, Attman's newer vines are planted at a very high vine density- 9500 vines per hectare, as opposed to the typically under 5000. This creates competition amongst the vines, forcing the roots to grow deep, naturally reducing yields. Attman has adopted the single cane trellising system, prevalent in Burgundy, and Grosses Gewächs wines ferment in 500mL French barrels. Von Winning practices organic and sustainable viticulture.
Attman describes his winemaking as "not doing the wrong thing at the wrong time." The estate's premium wines are treated with a minimalist approach and with the highest respect in the cellar. Gentle clarification, natural and spontaneous fermentation and the abandonment of fining agents create wines with a distinctive indigenous and very elegant style. Pumping the juice or wine is never necessary in the gravity flow winery, allowing for minimal, and gentle vinification.