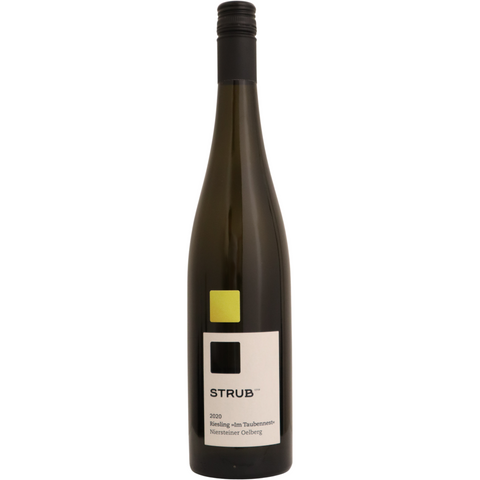 2020 Weingut Strub Niersteiner Oelberg "Im Taubenest" Riesling Trocken, Rheinhessen, Germany
Lush and authoritative, elegantly earthy and tasting like a slice of peach wrapped in Prosciutto di Parma. Its minerality shines through and leaves an everlasting presence on the palate that begs you for another sip!
ABOUT THIS WINE
This is the cadaster name for Oelberg's best parcel (which some claim is the best parcel in the entire Roter Hang) and it's Sebastian's "GG." The wine is always strong (as opposed to "powerful") and only reveals itself after 4-5 years in bottle. Whereas '18 is usually unkind to '17s tasted by its side, this '17 still shows the juicy mineral-saturated essence it showed a year ago, along with the salty nubby meringue with nibs of crunch and texture.
ABOUT THIS PRODUCER
In a region most recently known for high-yielding, innocuous varieties like Sylvaner and Müller-Thurgau that have tainted the reputation of German wine as a whole, Walter Strub and his son Sebastian are crafting transparent, pure expressions of Riesling on slopes along the Rhine River in Nierstein. The Strub family has been making wine in Germany's Rheinhessen region since 1710, Walter Strub is the 11th generation of his family to produce fine Riesling of international repute from the family vineyards.
In Nierstein, production of quality, vineyard-designated wines sits at less than 20%. The best vineyards in Nierstein, and arguably all of the Rheinhessen, lie on a steep south and southeast facing slope along the Rhine River called the Roter Hang (Red Slope), whose Rotliegenden soil produces some of the most terroir specific wines in all of Germany. Rotliegenden soils here are a composition of Permian red sandstone & slate, dating back some 280 million years. A unique set of Grand Cru vineyards here include the Oelberg, Orbel, and Pettenthal, along with a limestone rich vineyard called Brückchen located across the village from the steep red slope. The Strubs generally vinify fruit from the red slope dry, due to the pronounced minerality; while more often producing wines from the Paterberg and Brückchen in a fruity style due to the limestone soils and higher levels of acidity.
Sebastian Strub, fresh from graduating Geisenheim and an apprenticeship at Dönnhoff, has begun making his mark on the winery, bringing the wines into sleek focus. Sebastian has introduced a small filtration to control oxidation, eliminated süssreserve (balance, he believes, is best achieved through blending), and accelerated fermentations, preferring a faster, warmer 'cleaning' of the must. Additionally, Sebastian has placed more focus on the family's vineyard work, including the use of straw coverings between rows to prevent erosion and aid in water retention – a technique he learned while working at Dönnhoff.