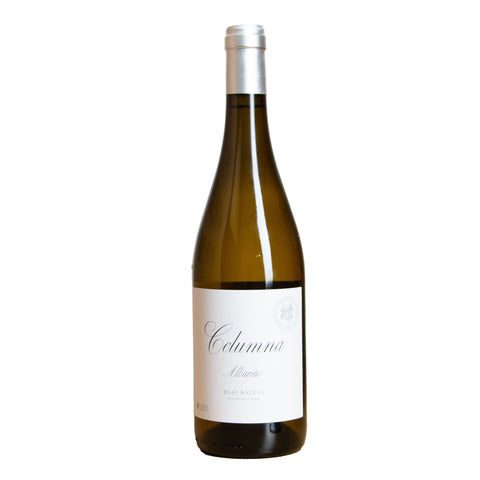 2022 Columna "Granito" Albariño, Rías Baixas, Spain
This Albariño strikes a perfect balance of ripe fruit, juicy acidity, delicate fragrance and structured mineral. Perfect for clams, octopus and all manner of vegetable dishes.
ABOUT THIS WINE

100% Albarino. Sustainably grown vines planted in 1988 (on average). Tended on the classic Pergola system in granite and alluvial soil at 44 m (135 ft) average elevation.

Fermentation occurs naturally utilizing indigenous yeasts that live on the skin of the grapes. Before fermentation the grapes macerate at cool temperature (39F) for 1-2 days. The wine is aged in stainless steel tanks.
ABOUT THIS PRODUCER

Winemaker Rodri Mendez draws upon generations of family experience to farm this superb Albariño on his estate in the most southern and inland subzone of Rías Baixas (Condado de Tea). Vines are tended in Granite and alluvial soil, imparting lots of minerality.

Made from 100% Albariño grapes tended in granite soil. The vineyards are located next to the Miño river in Galicia (North West of Spain) within the Condado de Tea subzone of Rias Baixas. Out of the 5 Subzones of Rias Baixas, Condado de Tea is the most southern subzone and furthest from the Atlantic Ocean. The North East of Spain is known for making the best white wines in the Iberian Peninsula. Out of the 200+ indigenous grapes found in this area, Albariño is the queen. She sustains the farmers of the region. Columna is a very unique expression of this queenly grape due to its southern and interior location – resulting in a style that is bright, floral mineral and at the same time rich.

The vineyards that produce this outstanding expression of Albariño are tended in the local popular Emparrado trellis system, which was invented by the Romans during the 2nd century to maximize air circulation allowing for a better drier ripening season. The winemaker Rodri Mendez is no less than Raul Perez disciple and right hand man. In fact Columna is vinified in the same winery were Sketch (the under the water wine) is produced. The goal in producing Columna is to showcase the purity of the Albariño grape in a 100% unoaked style from a unique micro-clime that produces richer fuller often more balanced Albariño wines.