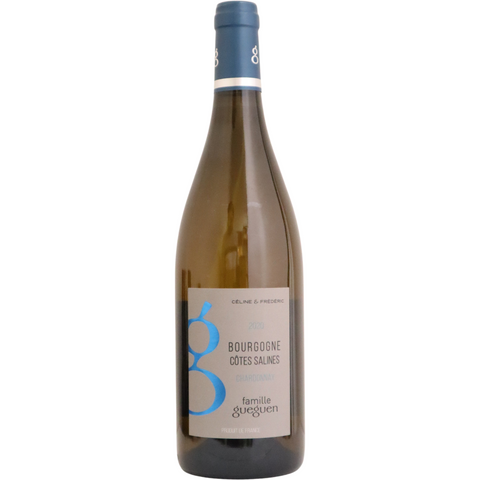 2022 Domaine Gueguen "Côtes Salines" Bourgogne Blanc, Burgundy, France
Pale yellow, expressive aromas of white flowers, almonds and toast. On the palate, the wine has great minerality with a honeyed finish.
ABOUT THIS WINE
The fruit is harvested mechanically. The fermentation is carried out with natural yeast. Direct pressing, cold settling under a controlled fermentation temperature (16-18 ° C) for the tank. Alcoholic fermentation and malolactic completed then the wine is aged on fine lees from October to mid June. The wine is aged in 100% stainless steel tanks to preserve freshness and fruitiness of the wine.
ABOUT THIS PRODUCER
Between the Auxerrois and Chablisien vineyards, the estate of Céline and Frédéric Gueguen is made up of 23 hectares of vines in the villages of Chablis, Chichée, la Chapelle Vaupelteigne, Saint-Bris and Irancy. Céline comes from a family of wine-growers, originally from Saint Bris le Vineux. After working for her father Jean-Marc Brocard on his estate for 13 years, Céline & Frederic decided in 2013 to go it alone and create their own wines.
"It is our wish to let you share these moments of happiness that we experience with the daily cycle of the vine, and simply to savor with you the fruits of our harvest. " Thanks to the confidence that several retired wine growers have granted to my wife and I, it is a great pleaser to announce the creation of the Domaine Céline & Fréderic Gueguen, in January 2013. Theses wine-growers chosen us to carry on with the prosperity of their vines.
They sincerely plan to respect the tradition and the fragility of the "terroir". All of their cultural techniques that take care about environment of the vineyard will allow them to preserve the aromatic complexity of this wines from all different plots. The property, an 19th- century building has a wonderful view over to the Chablis hill.